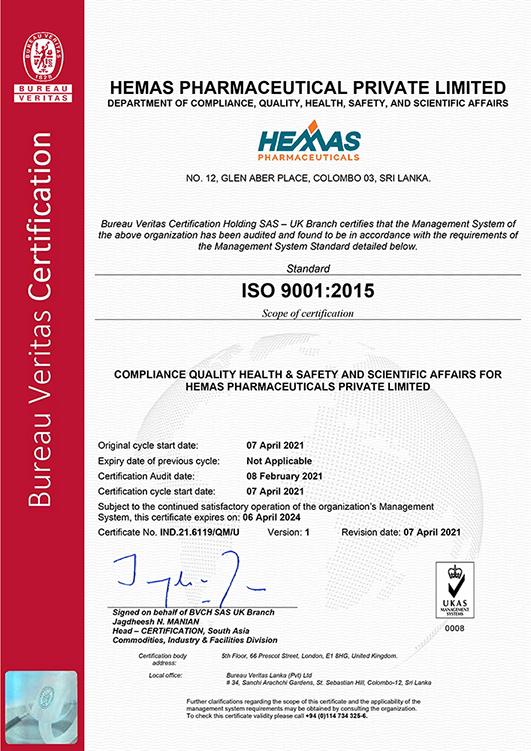 Hemas Pharmaceuticals (Private) Limited was awarded the ISO 9001:2015 certification by Bureau Veritas Lanka, one of the leading UKAS accredited certification bodies globally. This certification recognizes that the organization operates in compliance with latest best practices, controls, and industry standards as per UKAS requirements.
The ISO-9001 accreditation, demonstrates commitment to providing quality service to stakeholders. As the largest pharmaceutical importer and distributor, Hemas is committed to practice high standard of compliance and quality ensuring the adherence to the foundation in every endeavour. This certification provides international recognition to the compliance and quality practices followed at Hemas Pharmaceuticals.
In January 2021 Hemas Pharmaceuticals was also honoured with another accolade – "Certificate of Conformity for COVID -19 Safety Management System (SLS 1672: 2020)" for the relevance, rigor and consistency in the implementation and reinforcement of best-in-class safety management practices to minimize the risks of COVID-19 within its work locations.
Both endorsements received by Hemas Pharmaceuticals from The Sri Lanka Standards Institution for its COVID -19 related Health and Safety effort and from the International Organization UKAS for Standardization (ISO 9001:2015) affirms its the undisputed leadership in quality pharmaceutical distribution in the country.